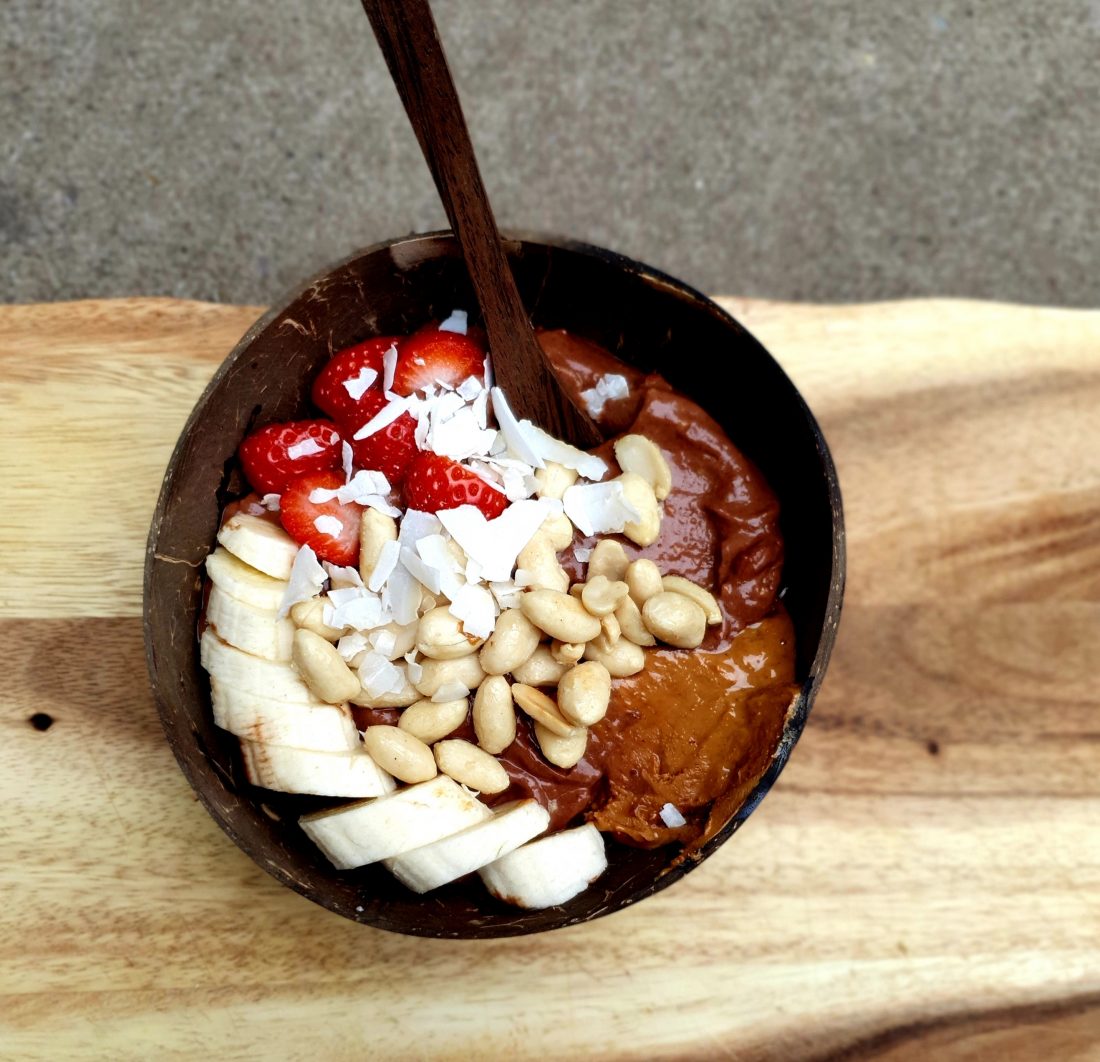 September 2, 2016
In
Food
Chocolate Smoothie Bowl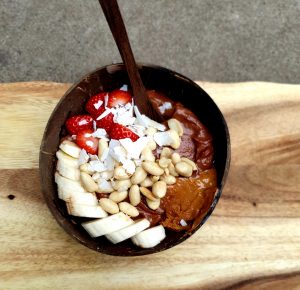 One of my most favourite things is a chocolate smoothie bowl. A healthier ice creamy chocolatey treat with all natural nutritious ingredients!
Totally simple and this one is absolutely damn straight decadent and yum!
What you need..
2 frozen bananas
dash of dairy free milk
2 tablespoons peanut butter
2 tablespoons cacao powder
Blend until smooth, make sure you keep your eye on the blender though as it's thick, so you will have to push it around a few times.
Then top with whatever you like.. fruit, nuts, granola etc..
I've topped mine with banana, cashew butter, toasted coconut, strawberries and maple peanuts – (handful of peanuts in a pan, drizzle with maple syrup and fry for a minute.)
You could also add half an avocado to the mix for extra health benefits to this chocolate smoothie bowl.
Cacao powder is a superfood by the way.. Chocolate in it's natural raw form before it gets processed with sugar, dairy and nasties. It's well worth getting yourself some Cacao to keep in the cupboard for those chocolate cravings we all get. It's high in iron, protein, calcium, magnesium, helps balance our moods, boosts our energy levels, the flavonoids increase blood flow and help us to have healthy glowing skin and it has anti-aging properties.
I mean as it's chocolate I'm sure I don't need to convince you with all the health benefits but it's an extra Brucey bonus I'd say!
Tip: Peel and break the bananas into small pieces before you freeze them so that it's easier for your blender to blend them. The riper the bananas the better! I wait until my banana skins have brown spots on, then I freeze.
Use tahini instead of peanut butter if you have a nut allergy.
Add more milk if you want to have it as a smoothie.
Enjoy! Who doesn't love a deliciously healthy chocolatey treat?!